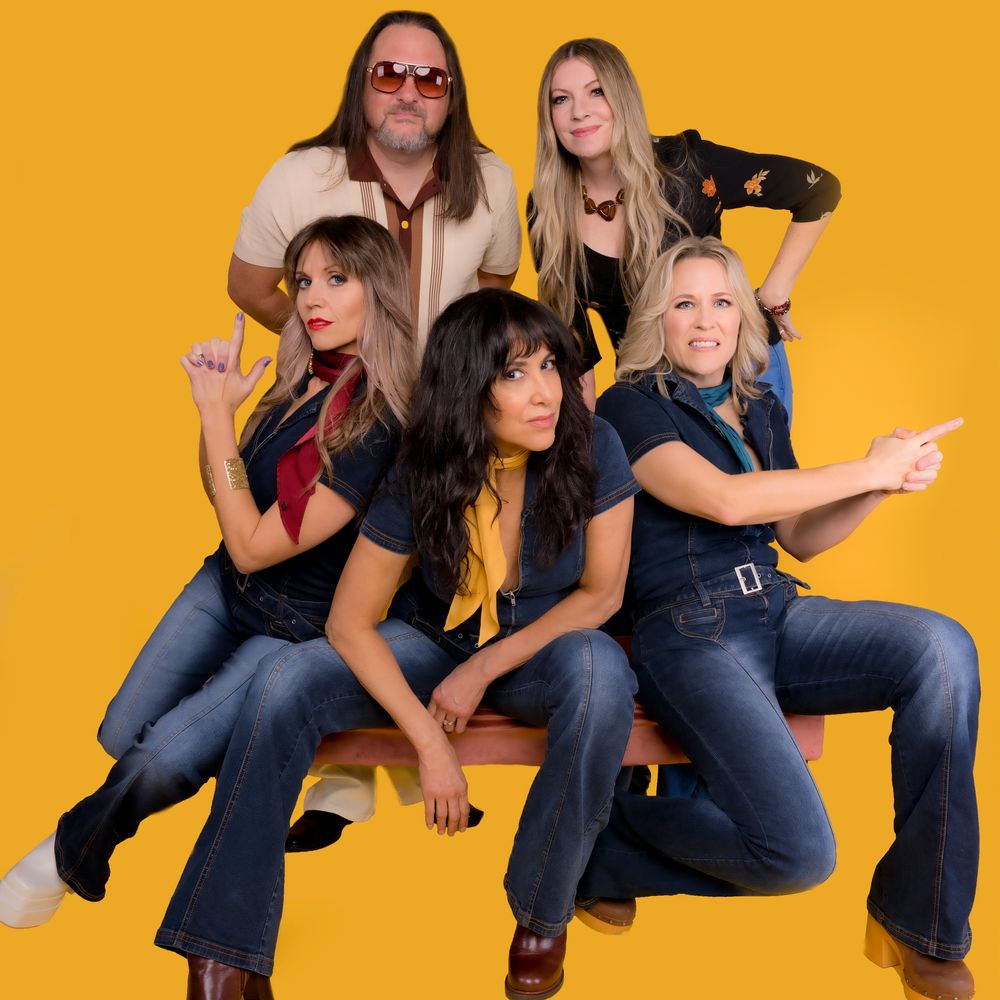 ABOUT THE BAND
Three groovy girl detectives, one dashing man of mystery, and..... bosley.
Three gorgeous girl detectives (ahem, musicians) are on a mission from the 70s to ROCK you!  Introducing Charlie's Angels: The Band, a loving homage to the era - and the classic TV show - that you know and love.  With vintage props from the television show, glamorous period costumes, and on-stage banter, this fun and funky show will delight - and never bore - you!
The band's repertoire features classic, dance-worthy hits such as "On the Radio," "We Are Family," "Carry On My Wayward Son," "Magic Man," "Jungle Boogie," "Fox on the Run," and other uptempo tunes of the golden 70s and early 80s.  
BAND BIO
Charlie's Angels: The Band features an impressive A-list of world-class musicians and veteran performers who, collectively, have toured the world and performed for many thousands: Angels Julie Jo Hughes (lead vocals), Jennifer Paro (lead guitar and vocals), and Andrea Zermeno (bass guitar and vocals); Rolly DeVore as "Charlie" on drums; and Tiffany Schirz on keys.
Rolly performs in various other high-caliber tribute acts, including Kenny Metcalf as Elton, The Who Generation, Cheap Tricked, and PRISS (the female fronted KISS tribute).  Jennifer's various bands (including PRISS and Cheap Tricked along with Rolly) have performed on the same bill with KISS, Paul Rodgers, Foghat, Jimmy Van Zant, Smashmouth, Frankie Goes to Hollywood, The Village People, and Kid Rock, to name a few. Lead singer Julie Jo Hughes has performed all over New York City, Branson Missori and cruises all over the world. Bass player Andrea is a veteran performer who also plays bass in ThundHERstruck (all-girl AC/DC tribute) and PRISS (along with Jennifer and Rolly). Keyboardist Tiffany Schirz is a veteran of the LA music scene performing with numerous acts. 
ABOUT THE MUSICIANS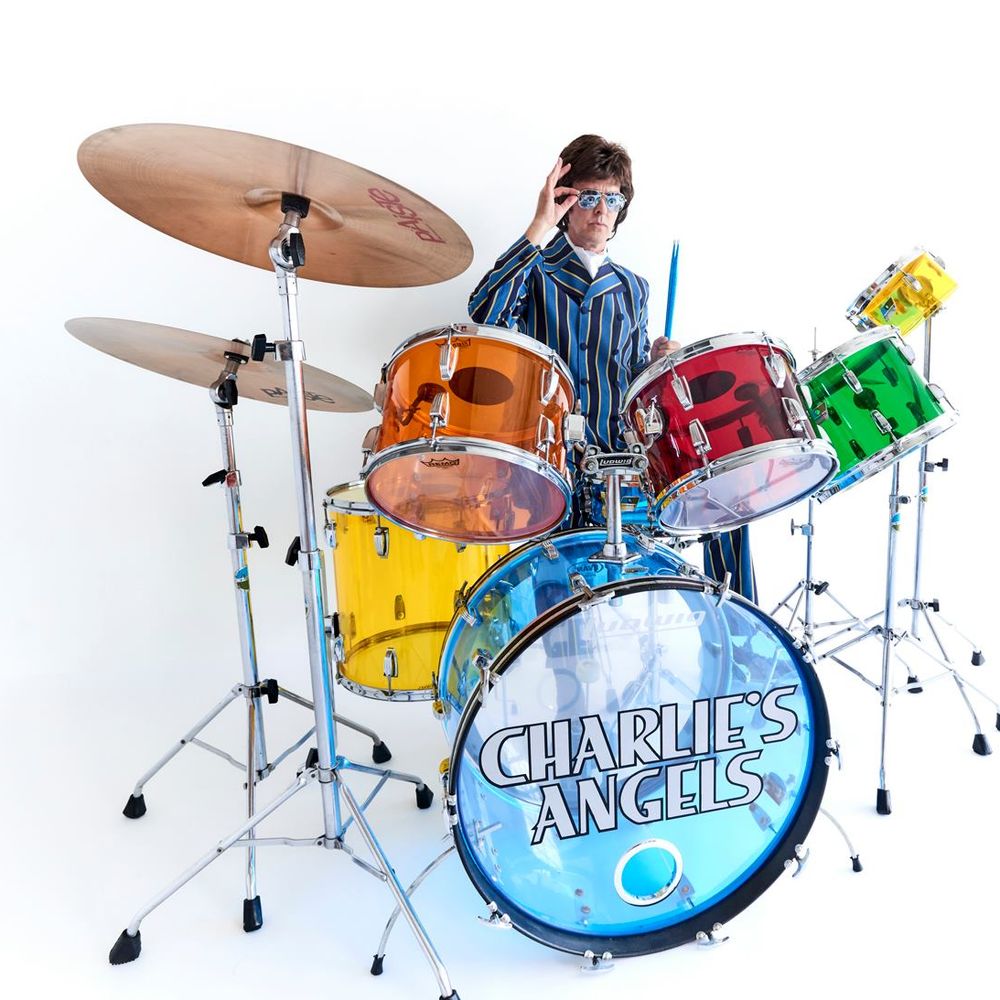 rolly devore
DRUMMER, LEAD AND BACKGROUND VOCALS
ROLLY DEVORE is a multi-instrumentalist who's been playing drums professionally since the age of 14. During the 1980's he was performing shows across the country playing bass guitar, doing studio work as a drummer in Los Angeles, and even made a cameo appearance in the Tom Hank's movie BACHELOR PARTY. During the 1990's he formed Orange County's critically acclaimed Rock/Pop band UNDER THE STARRY SKY, where he handled the lead vocal and guitar duties. He's also performed and played with members of The Who, KISS, Guns & Roses, The GoGo's, The Alice Cooper Band, Heart, Black Sabbath, and a host of others. NO DOUBT's Tom Dumont has referred to him as "The Ultimate Musician." 
Rolly is a tribute band veteran. In addition to starring as "Charlie" in Charlie's Angels, Rolly is currently handling drumming duties in "Kenny Metcalf as Elton," "The Who Generation," and "Priss," and fronts and plays guitar in "Cheap Tricked."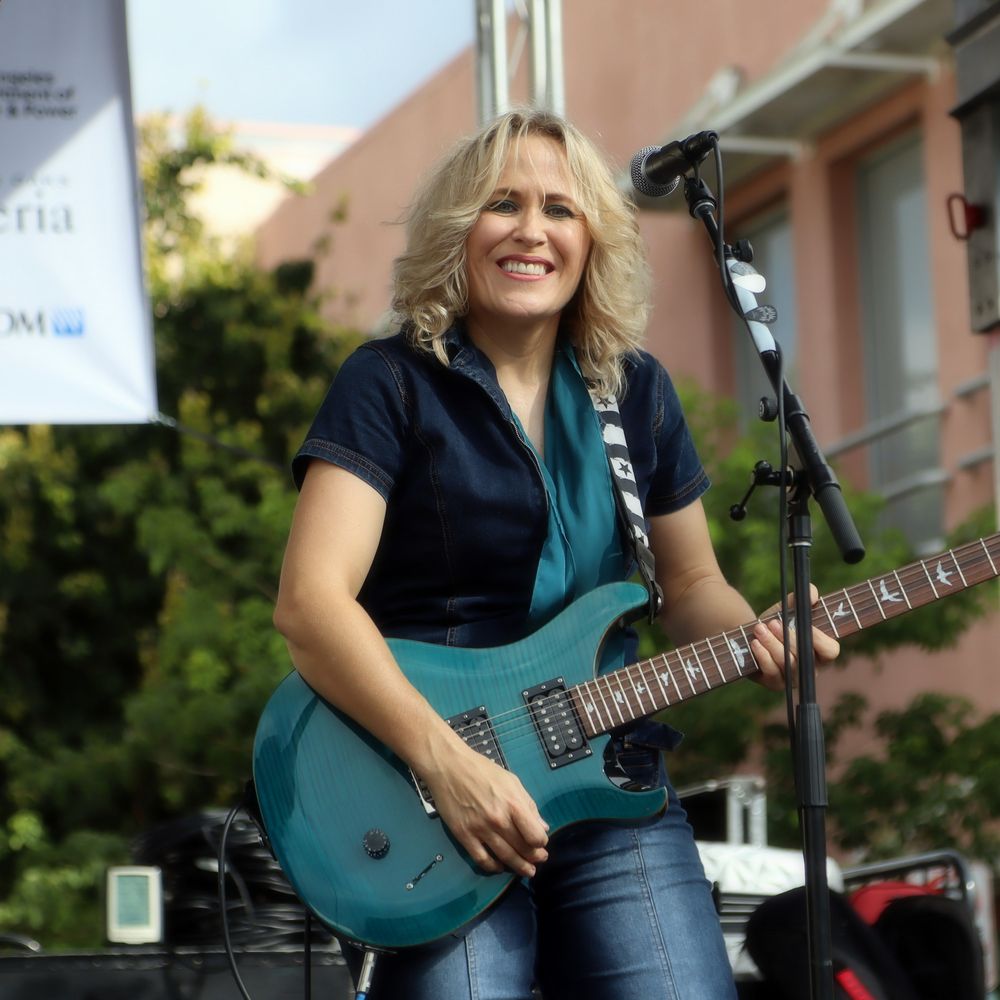 JENNIFER PARO
LEAD GUITAR and BACKING VOCALS
JENNIFER PARO is an accomplished musician whose talent has taken her literally around the world. She has performed for the U.S. Armed Forces in Japan and the Middle East, toured South America, and all over the U.S., including Hawaii. Her other bands have performed on the same bill with KISS, Paul Rodgers, Foghat, Jimmy Van Zant, Smashmouth, Frankie Goes to Hollywood, The Village People, 38 Special, Jodi Watley, Cheap Trick, and Kid Rock, to name a few. 
You may have seen Jennifer on the GENE SIMMONS FAMILY JEWELS or STORAGE WARS television shows, playing "Lace Frehley" (the female version of KISS guitarist Ace Frehley) in the female KISS Tribute band, PRISS. KISS members Gene Simmons and Paul Stanley personally picked Jennifer and her band to appear twice on their "KISS KRUISE," as did KID ROCK for his "Chillin' The Most" cruise. 
Recently, Jennifer has been playing "Chick Nielsen" (the female version of Cheap Trick guitarist Rick Nielsen) in the tribute band CHEAP TRICKED, and the group has also been playing all over the U.S. Cheap Trick guitarist Rick Nielsen has repeatedly "liked" her photos on Instagram!
ANDREA ZERMENO
BASS GUITAR AND BACKING VOCALS
ANDREA ZERMENO was born in Los Angeles, and was exposed to music at a very early age; her family always had something tasty on the turntable. She studied under the guidance of legendary session bassist Carol Kaye.
When Andrea is not holding down the low end as a Charlie's Angel, she also plays in Thundherstruck The Ultimate All Girl AC/DC Tribute, and PRISS the Female tribute to KISS. Andrea has toured the US, South America, and Europe as well as performed for US Armed Forces in the Middle East, Central Asia, Germany and Japan. Her bands have opened up for such acts as Alice Cooper, Toto, Grand Funk Railroad, Styx, John Fogerty, etc. Andrea endorses ESP Basses, Aguilar Amplification and EV Microphones.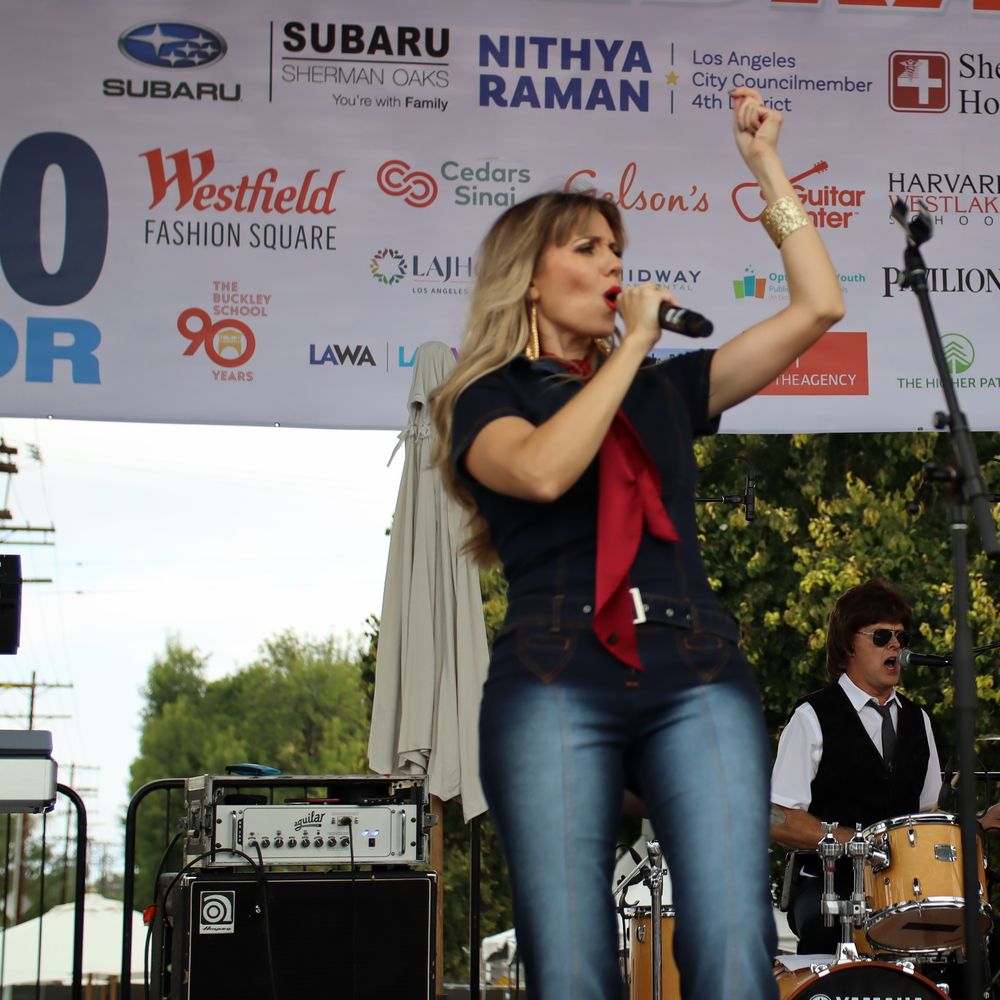 Julie Jo Hughes
Lead Singer
Julie Jo Hughes is a charismatic and fiery vocal powerhouse entertainer. Her voice, with adept versatility, has been heard across many genres of performance, from musical theatre to demo tracks and educational apps to podcast to theme park and revue shows to major cruise line productions, as well as commercials and film. Julie Jo has sung for hundreds of private parties with Hank Lane Music in New York City, and has toured nationally and internationally with Jeff Tyzik and his pop orchestras. She relocated to Southern California in 2018 and sings lead for multiple cover and tribute bands.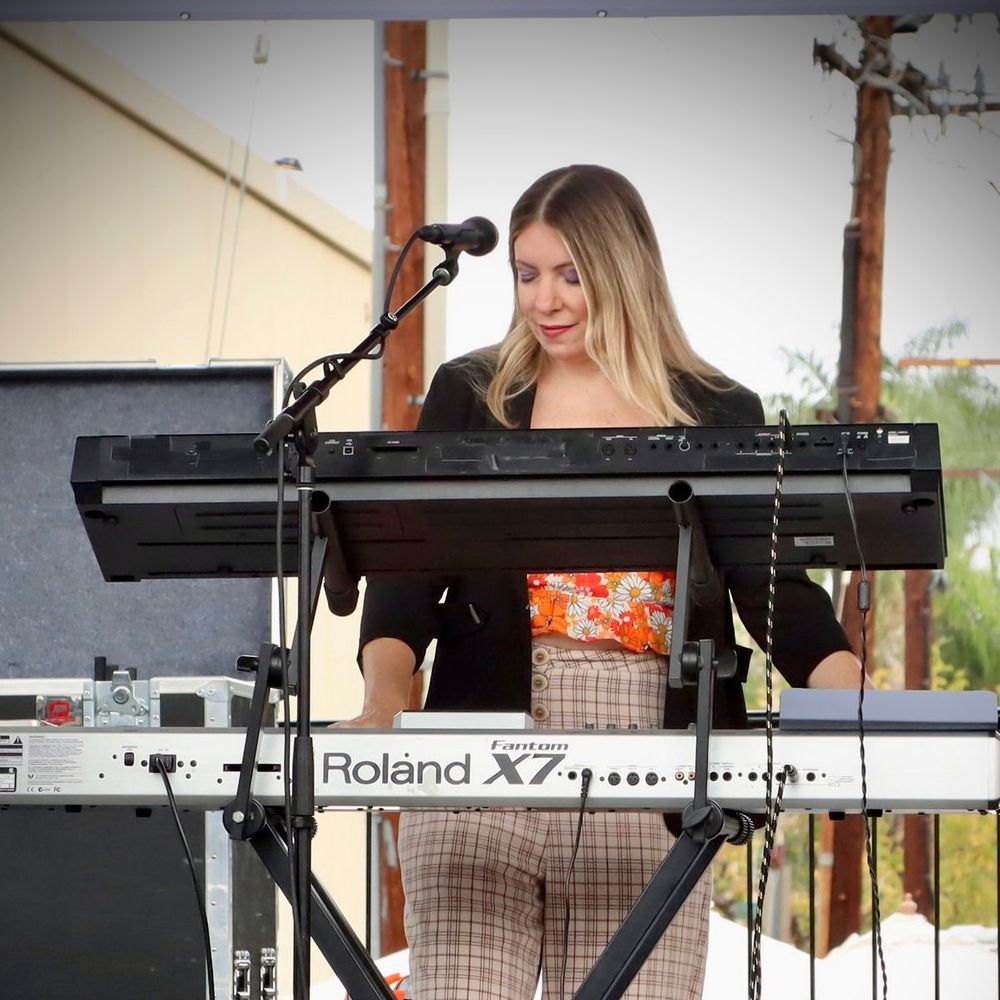 Tiffany Schirz
KEYBOARDIST AND BACKING VOCALS
Tiffany Schirz is a multi-instrumentalist, composer, singer and songwriter based in Los Angeles. As a keyboardist, she has toured with British new wave band When In Rome and synth-pop trio The Flirts among others. She's toured with bands in and outside the U.S. and has shared the stage with acts like The Killers, Foreigner and Collective Soul. She currently serves as a Musical Director for the Second City in Hollywood, and is also a keyboardist for the Story Pirates and the Casual Encounters. She is the pianist/musical director for the Rockin' Awesome Improv Show, which features a rotating cast of professional improvisers performing an all-ages showevery Saturday morning at YADA theater in Los Angeles. Composing credits include ABC's "The Great Christmas Light Fight", feature film "The Sound of Settling" (Amazon Prime), feature film "Community Theater Christmas" (Amazon Prime, Roku), and the Bravo Network's "Million Dollar Listing